Notas de prensa
---
Comunicados de Prensa
---
ERCOFLANGE EFB 220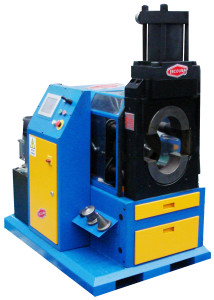 (2014) The ERCOFLANGE EFB 220 is designed to meet the high quality standards specific to the naval, chemical, pharmaceutical, food and petrochemical (oil & gas) fields. Ercolina® EFB220 uniformly cold forms a variety material including stainless, steel, copper and aluminum to 37° and 90° flanges in tubes 20 to 220 millimeter diameter with maximum wall thickness of 5 mm thick. The innovative forming process uses series double conical tools to avoid swelling and deforming the flange. Greater accuracy minimum deformation result in less post forming operations and higher productivity. The EFB 220 is equipped with a PLC control with touch screen 5.7″ to easily control settings and machine operation. We invite you to contact our Commercial Department (export@ercolina.it) for detailed information and to learn more about our international dealer network.
Ercolina Unveils New and Improved Rotary Draw Tube & Pipe Bender
Ercolina's TB130 Top Bender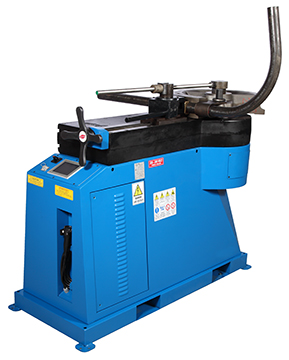 (2011) Confirming our commitment to market demands, Ercolina introduces the TB130 rotary draw bender. With capacity to 5 inch (130MM) tube, the TB130 is ideal for producing consistent quality bends in large pipe, tube, squares, solids and other profiles. Tooling available with bend center line radius small as two times the material diameter. Patented quick-change tooling system with multiple radii available. Interactive PLC touch screen control allows operator easy access to auto and manual bending modes, angle programming, machine diagnostics and multiple language capability. Program and memorizes bend angles 0° to 180° – with 12 individual bends per program. Independent spring back compensation is available for each bend. USB port for software updates and storage of unlimited programs. Digital display monitors counter bend die axis position and bend angle. Machine gear head manufactured from high grade cast iron design matched with high precision planetary reducer reliably produces quality, repeatable bends with minimum maintenance requirements. Machine protected by auto load sensing and all electrical components UL, CSA and CE approved. No hydraulic components, reducing cost and improving bend accuracy and productivity.
NEW from Ercolina – TM76 Top Mandrel Bender
Cost Effectively Replace Outdated Hydraulic Bending Machines with Ercolina's NEW TM76® Top Mandrel Bender (2010)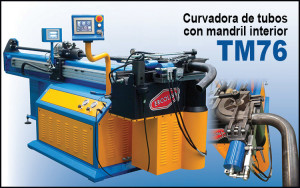 Ercolina introduces the TM76® Top Mandrel Bender which has a bending capacity to 3″ round tube and multiple profiles and is capable of bends to CLR displaying absolute (ABS) or incremental (INC) positioning with inch or metric readout. Model TM76 incorporates programmable mandrel positioning with anticipated mandrel retraction, clamping, pressure die and boost die movements. Tailstock Y and B position display resets to zero after each bend for easy setup while maintaining absolute position. Heavy one-piece steel structure improves rigidity and minimizes vibration. As small as 1.5D. Model TM76® is ideal for prototype or daily production. USB features unlimited storage of bend programs, material library and job information. The TM76® control is designed for easyaccess to manual and auto operating modes, system diagnostics and multiple languages with an interactive touch screen
Save